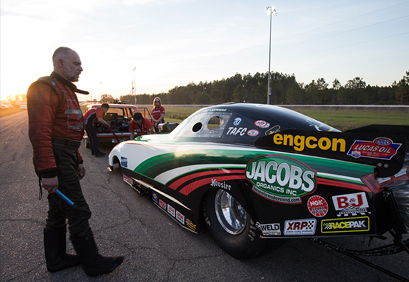 The Leanders Clutch is developed and fabricated by four-time European Champions in Top Methanol Funny Car, Ulf and Jörgen Leanders of Sweden.
The original goal was to increase theire own performance, but eventually fellow racers wanted to use their Products and they went into manufactureing.

First out was the 3-disc 11" for Top Alcohol racing followed by a 2 and 3-disc 11" for blown Pro Mod and Outlaw cars.
One special feature is the non-binding levers that can easily be replaced in a matter of minutes with the clutch still in the car. A very appreciated design as the conditions between the starting line and down track all too often Changes to a Point where a different lever is required. Tailor made levers are offered for any individual needs.

During 2009 the 6 1/8" 3-disc Pro Stock clutch was released as a result of joint venture between Leanders bros and Markus Svensson at Clutch Service. It was a unique, but yet simple 5-stand design.
Latest release is a 4-disc 7" unit design for nitrous- or turbo charged Outlaw cars but will work for many other applications as well. With a weight of less then 38 Pounds it will take off approximately 20 Pounds compared to traditional units.
All Leanders clutches are both user-friendly and extremely rigid that reduces flex to an absolute minimum.